<Bloomberg> Next China: Tit for tat
July 16, 2020
It was a dizzying week for the U.S.-China relationship.
On Monday, Beijing imposed sanctions on four American lawmakers, including Senators Marco Rubio and Ted Cruz. That was in retaliation for sanctions Washington levied the week before against Chinese officials linked to the detention of ethnic minorities in Xinjiang.
The tit-for-tat accelerated from there. The U.S. denounced China's claims in the South China Sea. China sanctioned Lockheed Martin for arms sales to Taiwan. President Donald Trump ended special U.S. treatment of Hong Kong and signed legislation that would sanction Chinese officials for suppressing political dissent in the city.
As Eurasia Group President Ian Bremmer aptly put it, almost every aspect of the relationship looks like it's "heading into the toilet."
What remains, albeit precariously, is the phase-one trade deal. And on that front, there was some optimistic news this week.
The U.S. Department of Agriculture announced Tuesday that China had made its biggest ever purchase of American corn, buying 1.762 million metric tons of the grain. That was after Chinese buyers purchased 1.365 million tons of corn on July 10.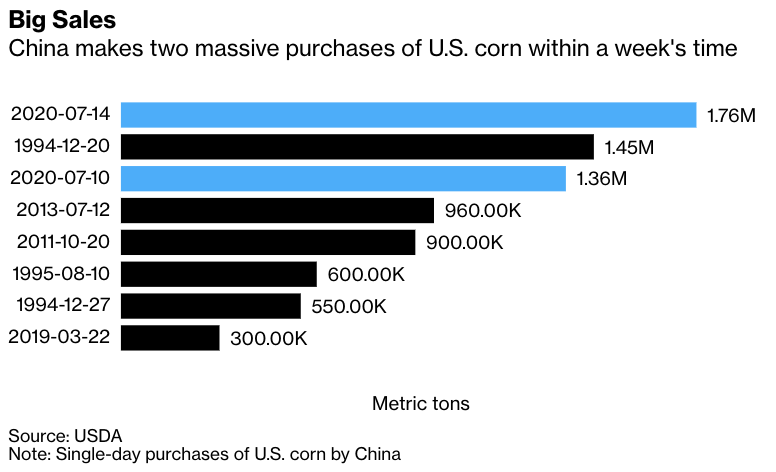 As shaky as the trade deal has looked at times, purchases like these underline its significance. The more American farm goods China buys, the stronger President Trump's argument is that his policies for dealing with Beijing work. And the more important the deal is to the administration, the more of a floor it puts under the relationship.
Indeed, it was revealed this week that for all of the combative public rhetoric, President Trump has privately sought to moderate tensions. He has so far ruled out additional sanctions against top Chinese officials as part of the Hong Kong legislation signed this week, indicating to aides that he doesn't want to further exacerbate strains in the relationship.
For all the bluster in Beijing and Washington these days, it could well be cargo traffic across the Pacific Ocean that tells us the most about the state of U.S.-China ties.
Uneven Recovery
Data released this week on China's economy offered a mixed bag of signals. Reassuringly for policymakers in Beijing, the rebound back into growth was stronger than expected, with GDP expanding by 3.2% in the second quarter after having contracted by 6.8% in the first three months of the year. The uneven nature of the recovery, however, is reason for concern. While infrastructure and property investment have gained, retail sales and private investment continue to be weak. That suggests much of the rebound was fueled by a booster shot of credit engineered by the government. Without a pickup in consumption and private sector spending, worries will persist that China's recovery could lose its momentum.
5G Fight
Washington scored a notable victory in the tech war this week. The U.K., having just said in January it would allow some Huawei gear in its 5G mobile networks, announced it is now completely banning the Chinese technology giant. Moreover, carriers have been ordered to remove all existing Huawei equipment from their networks by 2027. This reversal came after the U.S. in May took action to further restrict Huawei's access to semiconductors, which led the U.K. to conclude the company might have to use potentially insecure technology to offset the American sanctions. President Trump told reporters in Washington he personally intervened in the decision. Beijing, of course, lambasted the ban, with China's ambassador to Britain saying trust between the countries had been undermined. Attention will now shift to what countries might be influenced by the U.K.'s decision and issue similar bans.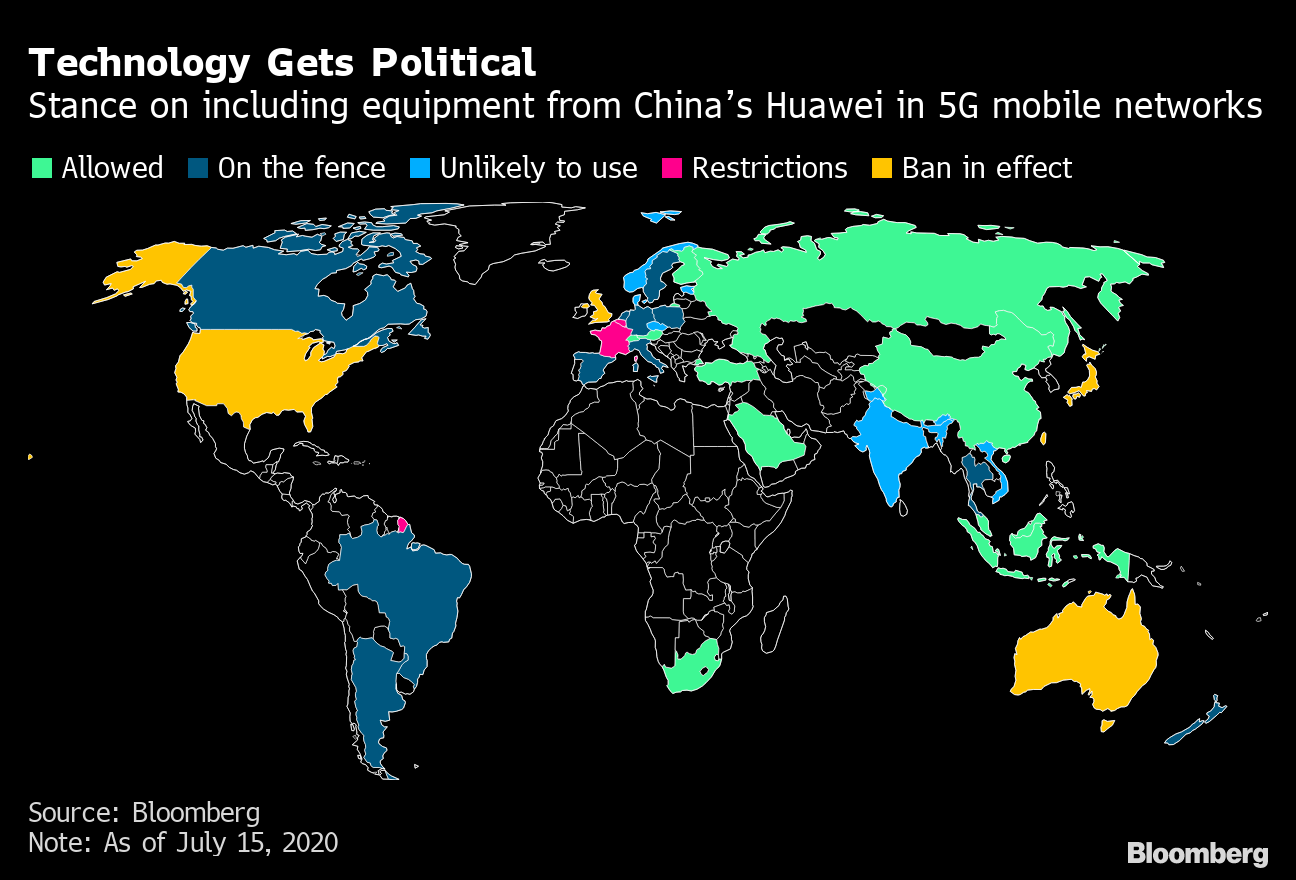 The Taxman
Despite their differences, there are some ways in which the U.S. and China are actually becoming more alike. Beijing, for example, has begun taking steps to tax income earned by its citizens overseas, a practice Americans will be well familiar with. For some Chinese expats though, it's come as a shock. That's understandable given rates on the mainland can be as high as 45%, as compared with 15% in Hong Kong, which is home to one of the largest populations of Chinese citizens living overseas. The only concrete steps so far though have been at state-owned companies, which have told employees who transferred from the mainland to pay their taxes. What remains unclear is how quickly Beijing might expand the policy to those working outside the state-owned sector.
Extreme Weather
China has been devastated by periods of severe flooding throughout its history. The most-tragic recent example was in 1998 when more than 4,000 people lost their lives as a swollen Yangtze River broke its banks, destroying homes and farmland. While the flooding this summer hasn't been nearly as dramatic, the damage has been severe nonetheless. More than 140 have died, millions have been forced from their homes and the mounting economic losses are nearing $10 billion. What's more concerning is frequency. A report by the China Meteorological Administration published last year found that the prevalence of extreme precipitation and high temperature events has increased steadily over the past six decades. The culprit the agency cited was climate change.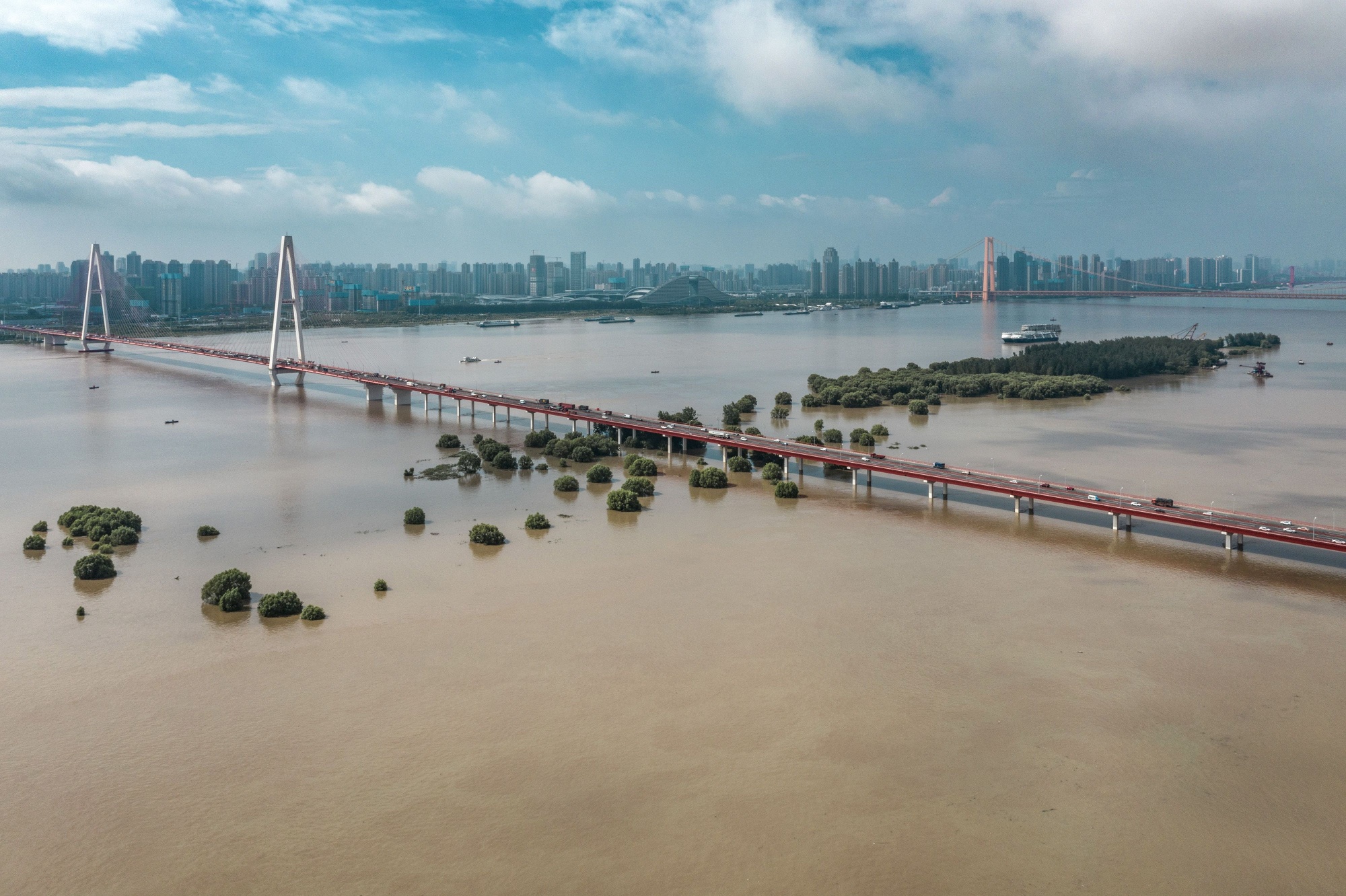 Floodwaters along the Yangtze River on July 8, 2020.