成绩不好的学生又有新借口了:学校的作息时间表或许与他们的生物钟并不匹配。
新研究表明,生物钟对学生的学业表现有着巨大的影响。有的学生是夜行性的猫头鹰,有的学生则是早起的百灵鸟,作息和生物钟的匹配与否影响着他们的成绩。比如,如果一名猫头鹰型的学生被迫上早课,那么他很可能取得糟糕的成绩。
来自东北伊利诺伊大学(Northeastern Illinois University)的生物学副教授Aaron Schirmer是这项研究的参与者,他认为各大学和学院在制定学生作息时间表时应当参考这项研究。在条件允许的情况下,校方应当设置符合不同"时型"(chronotype)的课程时间表。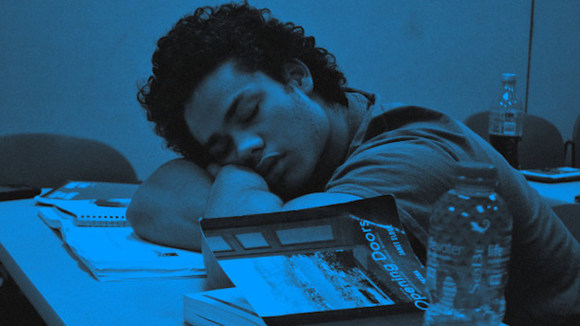 Aaron Schirmer说道,"各大学和学院应当设置各种(不同时间段的)课程,方便学生根据自己的生物钟调节作息。"此外,他还表示,学生们也有必要了解自己在一天中的哪一时段内精力最好,从而制定与自己的生物钟相符的作息时间表。
从2014年秋季到2016年春季,Aaron Schirmer和来自加州大学伯克利分校的博士后Benjamin Smarr一起对近1.5万名学生进行了为期四个学期的分析,研究他们使用东北伊利诺伊大学D2L在线学习管理系统的方式。首先,他们观察了这些学生登陆系统的时间,并分析了他们翘课的日期。这些活动轨迹说明了学生们各自带有怎样的生物钟、愿意在何时学习。然后,他们分析了这些活动轨迹与课程时间表的匹配度。
在这份研究中,不同作息时间间的差异被称为"社交时差"(social jet lag),这个词指的是个人的理想作息和作息时间表指导下的作息间的差异。据两位研究人员称,平均而言,"社交时差"越大,学生的学业表现越糟糕。此外,自身的生物钟与现有作息时间表吻合的学生数仅占学生总数的40%。
Aaron Schirmer承认,翘课时间段并不能准确地表明学生具有怎样的生物钟。比如,他们可能拿这些时间做了其他事情,包括工作或是照看父母,在这段时间里他们并没有歇着。不过,来自在线学习系统的数据不仅成本低廉,而且有很多细节,这使得他们得以观察到更为普遍的行为模式。
很长时间以来,研究生物钟的科学家们一直在争论全社会是否应该采用更为灵活的作息时间。相比上了年纪的人,年轻人在一天中的晚些时候更加清醒。有研究显示,有的儿童在一大早举行的考试中考得好,有的则晚些时候举行的考试中考得好。让每个人都在一大早8点或9点就起来或许并无益处,也并不公平,因为很多人在上午或者下午才更精神。
(翻译:王宁远)
This year, the teens at Toronto's Eastern Commerce Collegiate Institute are starting classes an hour later than everyone else in the city as part of a pilot project.
By KRISTIN RUSHOWYEducation Reporter
Mon., Sept. 14, 2009
Math teacher Wayne Erdman teaches Grade 11 Eastern Commerce Collegiate students during first period, which now starts at 10 a.m. (KRISTIN RUSHOWY / TORONTO STAR)

How great is late?
"I like it – I feel more rested," says 16-year-old Tiffany Gerro.
"I feel so much better. It's awesome, I love it," adds Grade 11 student Mike Stuckless.
"There's more time (in the morning), you feel more fresh and less gross."
This year, the teens at Toronto's Eastern Commerce Collegiate Institute are starting classes an hour later than everyone else in the city as part of a pilot project to determine if getting some extra sleep actually improves not just their attendance, but their grades.
Article Continued Below
And so far, so good.
"The kids were on time – nobody was late" the first two days of classes, says Wayne Erdman, who started teaching math at the school 26 years ago and is now also the department head. "I could not believe it."
He's not expecting miracles – "they're still teens and I still expect some to be late, but not half an hour or 45 minutes," as in the past. And he's hoping that more sleep will mean better results for his first-period students, after a whopping 46 per cent failed Grade 11 functions last year.
Eastern is acting on the growing body of research that shows teens' brains are wired to go to bed late and get up late. At puberty, the chemical that induces sleep is secreted around 11 p.m. and shuts off around 8 a.m.
Most teens are also sleep-deprived at a time when their bodies need 8.5 to 9 hours a night; studies have shown that about three-quarters don't get nearly that.
When local trustee Cathy Dandy proposed the new timetable, the school looked at first-period statistics and found that, from punctuality to attendance, grades to credits earned, it was the worst.
At that time, school started at 8:50 a.m. and teachers said many kids would come to class like zombies, too tired to learn.
In the U.S., some schools that have experimented with a later schedule – with first period at 8:30 or 9 a.m. – report less student depression and fewer dropouts, and better test scores and grades.
One top U.S. researcher in the field said Eastern's 10 a.m. start is the latest she has ever heard of.
At Eastern, many students live out of district and have long commutes; others work late nights, even overnights, to support their family.
Principal Sam Miceli said he has heard positive reviews from staff and students and said enrolment is up this year, in large part to the new hours, "which is icing – any bump in enrolment is appreciated."
The board will study attendance, punctuality, class averages and credit accumulation for period one compared with other periods last year to this year, and next, said Miceli.
"If it proves to be a success, it should be as de rigueur as giving (younger) kids a nap. There's a biological need for it."
He knows critics will say it's coddling and indulging lazy teens, and others say it doesn't reflect the real world.
But he points out that not everyone starts work at 9 a.m. – even some merchants on the Danforth close to Eastern don't open until 11 a.m. – and that university students make their own schedules.
"So what is the real world?" Miceli said.
Already, though, the school has hit a couple of snags.
With a shortened lunch period – 42 minutes versus the usual 65 minutes, in part to accommodate early dismissal on Friday – some students are arriving late to class after lunch.
"That's longer than they'd get in the real world," says Erdman.
"That's going to be the biggest stumbling block."
Miceli said food has not been sold in the cafeteria for several years, so students often head up to the Danforth to grab a bite to eat. Students say that leaves them little time to sit down and eat.
With the lunch period now also an hour later, students are getting hungry – so next month the school will start handing out free breakfast to students as they arrive, said Miceli.
Student Ainul Majeed, who is vice-president of the student senate, likes the change but said she is no longer able to pick up a younger sibling from school. "Now someone else has to do it," she says. "It's less convenient."
Trustee Dandy says the board has received a lot of calls about the pilot project. "I'm excited about it," she says.
"I'm excited that we're going to track data and that we'll be contributing to the understanding of how to teach adolescents in a way that works for them."
She was also pleased that the school was able to work out a schedule that allowed for early dismissal on Friday, allowing Muslim students time for prayers.
'Oh, let them sleep': More on this subject in the parentcentral.ca editor's blog