'Wedding of the year' couple Salim and Aysha Mehajer use makeup to see their future
A new video has surfaced showing "wedding of the year" couple Salim and Aysha Mehajer transforming their appearance so they can see what they will look like growing old together.
The Auburn deputy mayor and his wife have been heavily criticised after police needed to be called to manage the crowds at their extravagant star-studded wedding, which involved four helicopters, a fighter jet and a fleet of luxury cars.
In the video, recorded before their wedding, a team of makeup artists work their magic on the couple to give them a chance to contemplate what their lives will be like together - decade by decade.
It appears to be a recreation of a popular viral video from earlier this year filmed by US couple Tavis and Kristie.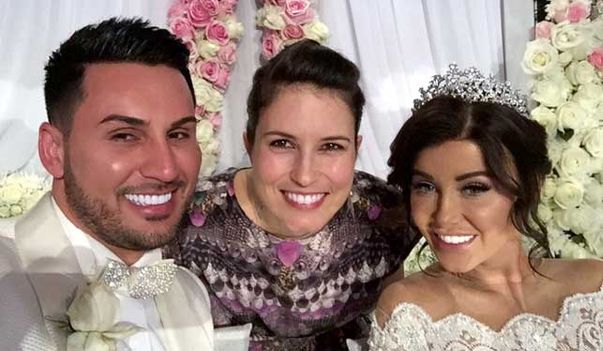 At one point Mr Mehajer has grown a bowl cut, while later in the video he appears heavily wrinkled with stark white hair.
The video is one of two "pre-wedding" videos the pair has uploaded. The first, which was released on Sunday, was a "trailer" for their wedding which dramatised their relationship to date.
The property developer says he has done nothing wrong but more than 6000 people have signed a #SackSalimMehajer petition to have him removed from his position as deputy mayor.
Some locals were furious after they were informed last Tuesday in a letter-box drop that the street had to be cleared of all vehicles on Saturday or they would be towed at their expense.
Auburn City Council released a statement that said the road closure was not authorised although a partial closure and the helicopter landing had been approved.
The statement called the disruption "regrettable" and the council was working with police to investigate the event.
Mr Mehajer, 29, told KIIS radio station he "doesn't think they've done anything wrong".
"They can investigate all they like, I've got nothing to hide," he said.
Councillor Irene Simms said the way residents were treated was embarrassing.
"A lot of people are very unhappy about the letter that was boxed to local residents, which is the biggest concern," she told AAP.
"People are very unhappy for being held up by traffic. The people that live near the park (are unhappy) because they think they should have been told it would be landing."
Residents assumed the letter-box notification was sent out from council as no name was provided on the document, Ms Simms said.
"It just says `management, there was a mobile number given (on the leaflet) and if you Google it, the number is Queen Street Custom Car Hire," she told AAP.
"One of the residents rang and was told they weren't at liberty to tell him why the road was being closed."
Read more at :yellow bridesmaid dresses