Liberty University Speech delivered Trump's sober soul 特朗普是个好总统
风萧萧 滑铁卢华人论坛
已有 9 次阅读2017-5-14 15:04 |个人分类:美国
http://www.kwcg.ca/bbs/home.php?mod=space&uid=61910&do=blog&id=5234
If a person always acts as that of walking on eggs in overcautious and indecisive, she or he would be able to do nothing.
Trump does not pay attention to small etiquette, but, firmly promotes the key focus, he would be really able to change the United States.
--- 风萧萧 May 28, 2017 1:52 in Canada
President Donald Trump Speech at Liberty University Commencement Ceremony
Streamed live on 13 May 2017
LIVE: President Donald Trump Speech at the Liberty University Commencement Ceremony 5/13/17 Trump LIVE, Liberty University Commencement 2017 - Live! Starts 10:00 AM

"I know that each of you will be a warrior for the truth, will be a warrior for our country, and for your family. I know that each of you will do what is right, not what is the easy way, and that you will be true to yourself, and your country, and your beliefs."
"In my short time in Washington I've seen firsthand how the system is broken. A small group of failed voices who think they know everything and understand everyone want to tell everybody else how to live and what to do and how to think. But you aren't going to let other people tell you what you believe, especially when you know that you're right.And those of you graduating here today, who have given half a million hours of charity last year alone, unbelievable amount of work and charity and few universities or colleges can claim anything even close, we don't need a lecture from Washington on how to lead our lives."
"Carry yourself with dignity and pride. Demand the best from yourself and be totally unafraid to challenge entrenched interests and failed power structures. Does that sound familiar by the way? The more people tell you it's not possible, that it can't be done, the more you should be absolutely determined to prove them wrong. Treat the word 'impossible' as nothing more than motivation."
"I'm standing here looking at the next generation of American leaders. There may very well be a president or two in our midst. Anybody think they're going to be president, raise your hand."
这个破败的系统越是告诉你,你错了,你就应该更确定你必须不断向前推进。
在我入主白宫的短短几个月中,我亲眼看到了这个系统的破败。一小群失败的发声者,他们认为自己什么都懂,了解所有人,他们希望告诉所有人,应该如何生活、做些什么、如何思考。但你们不要让别人告诉你们信仰什么,尤其是当你知道自己是对的时候,我们不需要华府政客告诉我们如何生活。"他一度宣称:"在美国,我们不崇拜政府,我们只崇拜上帝。"
Do not listen to nonsense.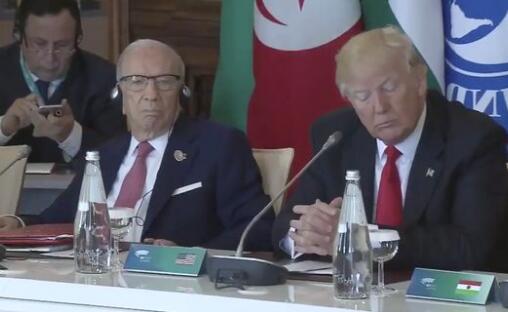 Smile and nod: Trump was not wearing translation device in Japan
Trump's translation earpiece not on for Japan PM's speech | Daily Mail
Donald Trump: Shinzo Abe Shows the Way to His Heart | Time.com