Overheard about her, checking it out now:
Jonathan Rhys Meyers and his wife Mara Lane (She looks like Maggie Q) of Asian Roots, American Wings, Irish Heart. Their son is so cute, adorable (below).
https://www.earnthenecklace.com/jonathan-rhys-meyers-wife-mara-lane-wiki-age-ethnicity-nationality-facts/
With his cute little boy son,
https://www.youtube.com/watch?v=ZiJEbm_u2-8
The Tudors: Jonathan Rhys Meyers on Henry 8 and Love
https://www.youtube.com/watch?v=2te4kD2KV3A
In all his interviews where he talks about characters he plays you can tell he really does feel the roles he plays. Such a talented and beautiful person.(人´∀`*)
I love the way he speaks. So eloquent, so articulate and so passionate. And Dear God... those lips. Jonathan is flawless.
Judging by her Instagram, American actress and producer Mara has been enjoying playing the role of a tourist these last few days as she toured the Emerald Isle with Jonathan and met members of his extended family.
The slender brunette shared snaps from around the island and gushed about her love for Jonathan's native country, even teasing that she wouldn't mind swapping the States for a new home in Ireland.""

**



United: Actor Jonathan Rhys Meyers and his wife Mara Lane put on a united front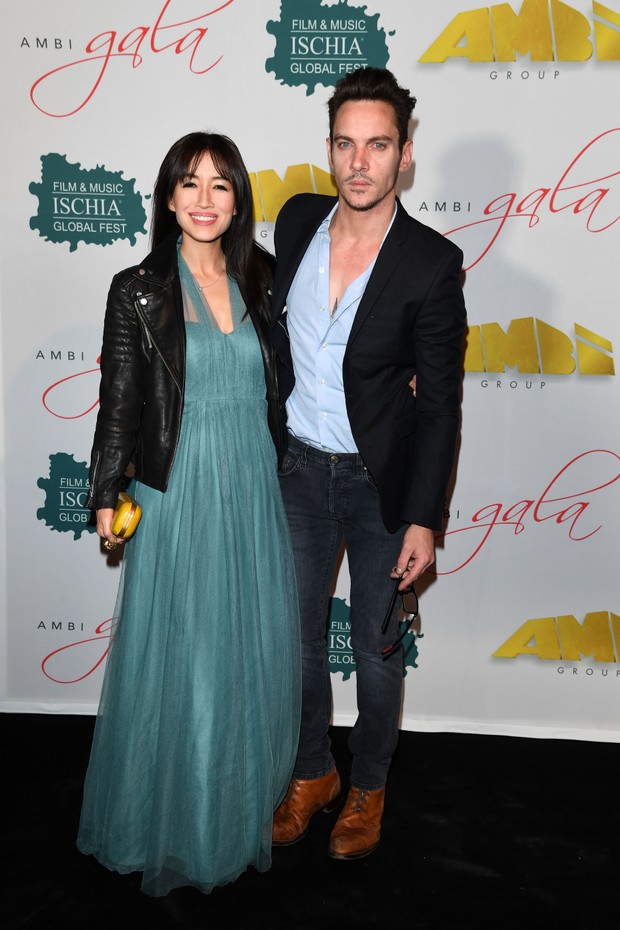 The actress and producer married the Bend it like Beckham star in 2016 and welcomed their son Wolf not long after.
Here's all you need to know about the American wife of the Tudors actor...
Jonathan Rhys Meyers (born Jonathan Michael Francis O'Keeffe;[1] 27 July 1977) is an Irish actor. He is known for his roles in the films Velvet Goldmine (1998), Bend It Like Beckham (2002), Match Point (2005), Mission: Impossible III (2006) and his television roles as Elvis Presley in the biographical miniseries Elvis (2005), which earned him a Golden Globe Award for Best Actor – Miniseries or Television Film, and as King Henry VIII in the historical drama The Tudors (2007–10).[2][3] He has been the face model for several Hugo Boss fragrances advertising campaigns.[4]
In 2013, Meyers appeared as the villain Valentine Morgenstern in The Mortal Instruments: City of Bones, based on Cassandra Clare's novel, City of Bones. He also starred in the NBC drama series Dracula (2013–14) as the title character. More recently, Meyers appeared in the 2015 film Stonewall, directed by Roland Emmerich.

The Tudors is a historical fiction television series set primarily in the 16th-century Kingdom of England, created and entirely written by Michael Hirst and produced for the American premium cable television channel Showtime. The series was a collaboration between American, British, and Canadian producers, and was filmed mostly in Ireland. Although named after the Tudor dynasty as a whole, it is based specifically upon the reign of King Henry VIII.[1][2]

*****************




Jonathan Rhys Meyers Photos - Actor Jonathan Rhys-Meyers (right) with girlfriend Reena Hammer arrive at the Universal/NBC/Focus Features Golden Globe after party held at the Beverly Hilton...